Calamity Chang Reveals Her Burlesque Inspiration
0
As an Asian burlesque performer and producer of themed shows in New York City, Calamity Chang is often asked where she gets her ideas from.  To answer this question, Calamity reveals the inspiration and creative process behind three of her favorite acts: Chinese Flamenco, Shanghai Lily and The Forgotten Dancer. Please note that some of the imagery and video might not be suitable for work.
Act 1: Chinese Flamenco
Sometimes an act begins with a song and, in this particular case, when I first heard "Tamacun" by the fiery Mexican guitarist duet named Rodrigo & Gabriela, I knew I had to do something with it. The long process of listening to the song over and over again begins. I listened to it when I'm waiting for the train on the platform, walking my dog, and when I can't sleep at night. The song has to become embedded in me before I start to "see" what it looks like. I'd say I had the song in me for a year before I stumbled on the dress in a crowded, messy shop in Boston's Chinatown. It was not exactly a traditional Chinese "qipao" (or "cheongsam") because of the high slits that go up to the waist on both sides. Plus it came with loose, wide legged pants which is more in the Vietnamese tradition rather than Chinese. No matter because the minute I saw the gold phoenix embroidery and the rich red of the tunic, the song and the visual clicked. I have always been inspired by Latin culture (and especially salsa music) because as a child my family and I lived in Santa Cruz, Bolivia for three years before coming to the States. I spent my teenage years in Texas where the Tex-Mex culture was also a big influence on me. Because the song "Tamacun" has a very specific Spanish feeling to it, I felt like I needed to use fringe and really work the bright colors. My mood board pulls from flamenco's colorful flare, salsa's love for fringe on costumes, the elegance of Chinese qipao, Chinese lion dancer's pant legs, and Charo from The Love Boat! To simulate big movement, I added a pair of bright yellow silk fans to my act. The yellow pants have about 18 layers of yellow fringe that I painstakingly hand-sewed while watching crap TV sitcoms like "King of Queens". The undergarments are a gorgeous bright yellow bra and thong set (made by Varla Vavoom) covered with more fringe and rhinestones.
The final product as I melded all these things together looked like this (as of 6 months ago – costumes sometimes keep evolving, more embellishments, more fringe, fixes and re-dos). I just performed this act at the 11th Annual New York Burlesque Festival last week.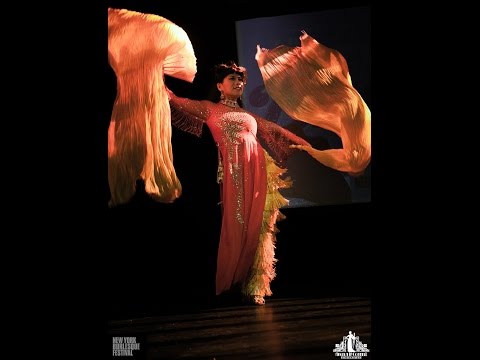 Act 2: Shanghai Lily
This act is absolutely, 100% inspired by all of Wong Kar Wai's films in particular "In the Mood for Love". I am also inspired by my friend Shien Lee (lower left corner) who is the creator and mastermind behind the anachronistic romantic party event production known as Dances of Vice based in NYC. Shien and I both share a love for the nostalgia and romance of Old Shanghai during 1920-40s. We are both fans of the music from that era, an unique blend of Chinese lyrics with Western jazz influence, and the classic luxurious qipaos the women of those decades were known to famously sport. It was during those two critical decades when China was war-torn that the Chinese qipao evolved most dramatically. The waist line became much more body forming, the arm holes cut much deeper, and the slits on the sides much higher. The older qipao styles which were looser and less body-conscious gave way to a modernized version of this traditional dress. Because we were both gaga for Old Shanghai, Shien and I co-produced a monthly burlesque dinner cabaret show at Duane Park called "Les Fleurs de Shanghai" where Shien sang all the famous Chinese songs by the "Shanghai Divas" accompanied by piano and violin. I loved this show. It was absolutely one-of-a-kind. The only Chinese jazz burlesque show in the States, and it embodied the intersection of many of my interests in vintage Chinese dresses, old Chinese jazz, and striptease.
Because of this show I started to collect vintage qipaos. I would find them mostly on Etsy or eBay and occasionally I would stumble on a gem at an offbeat second-hand thrift store in my hometown Arlington, Texas. The thrift stores down south are REAL thrift stores not like the ones here in NYC or Brooklyn where everything is overpriced and the opposite of "thrift". My current favorite Etsy seller is TaraMisioux. She is also a burlesque performer based in LA and she has a fine discerning eye.
Another one of my favorite Etsy shops to scour for romantic, authentic qipaos (vs. the phoney cheap ones made of brocade that you find at Pearl River market or in Chinatown in NYC – beware of those!) is Vogue Vintage where I found this black satin beauty.
I wear this dress a lot. It fits like a glove. There's no give in the fabric so it has also become my "measurement" dress. Instead of using a scale, I just put this on to see if I've gained or lost a few pounds! I wore this dress to see Dita von Teese last winter in NYC for her "Strip Strip Hooray" tour. Her host Murray Hill got me backstage to meet her (Yay Murray!) and Dita complimented me on this very dress. Fine tastes think alike!
My obsession with all things Chinese and Old Shanghai-related has led to creating the "Shanghai Lily" act. My favorite one is pictured below (taken at Macao Trading Company by Jane Kratochvil and at The Hudson Opera House in Hudson, NY by Dave Bowles). I dance to live bands usually for this act. Sometimes it's "Black and Tan Fantasy", "Harlem Nocturne" or an obscure old song called "Kicking the Gong Around" by David Johansen. The tricky thing with stripping out of a qipao is all the buttons are along the sides. The first thing I do when I turn a qipao into a burlesque costume is to fake-out the frog closures so they are snaps. Then I will replace the tiny little snap traditionally used along the edge with BIG sturdy ones so when I dance, the dress doesn't accidentally pop open. Next is the zipper – every burlesque performer knows to do this first and foremost. Replace the civilian dress zippers with BIG acrylic plastic ones. I've witnessed many a tailor with an aghast expression when I request an acrylic zipper replacement. Small invisible zippers ALWAYS snap on fabric or your undergarments.
Act 3: The Forgotten Dancer – Mei Ling Tribute
I first discovered Mei Ling from a Google search for "Chinese burlesque", and I was immediately drawn to her robe, headpiece and the overall regal-ness of this costume's presentation. Yet this was all I could find of this particular "Mei Ling". There are many other "Mei Lings" out there. The name is  a stereotypical Asian name popular during the "yellow face" period of American history along with other "faux-Asian" names like "Ling Ling", "Ling Mei" or "Mei Mei". All those names are really just phonetic versions of the word "pretty" in Mandarin Chinese, and no real Chinese I know would ever name their daughter "pretty"!
It's no surprise that it's difficult finding more information on women of color who performed burlesque back in the day, because back then, it wasn't regarded as a neo-movement or artistry the way it is now. It was stripping. There is still a lot of feelings of shame for these ladies who don't want their families to unearth their past, especially in Chinese culture where sexuality is not to be brandished about publicly. I've heard personal stories of great granddaughters discovering boxes of black and white photos in storage depicting their Great Grandmother in skimpy glamorous showgirl costumes. Yet the story ends there. Either there's no one left to tell the story or no one is willing to tell the untold story. In one particularly poignant story from a friend on Facebook, her great grandmother suffered from dementia later in life and was not able to share her fascinating stories.
There is a great resource on Facebook called "Vintage Photos of Burlesque Dancers" run by Ms Janelle Smith. She has quite an encyclopedia of amazing photos from the golden era of striptease ranging from all the big names (Tempest Storm, Lili St Cyr, Noel Toy) to the lesser known names. "Where are these women now?" I always wonder to myself when I stare at these photos. Permanence and immortality are really just fragments of memory caught on film. I reached out to Ms. Smith and sent her photos of my Mei Ling. To my surprise she had an interesting lead. Mei Ling performed both on the east and west coasts. Someone recently contacted her who owned a large hand-painted sign of Mei Ling. The sign was found in the rafters of a NJ bar. Ms Smith never did get a photo of said sign but she was kind enough to go through a large scrapbook she recently acquired containing newspaper clippings and found a 1945 ad for Mei Ling (pictured on the right of the above image).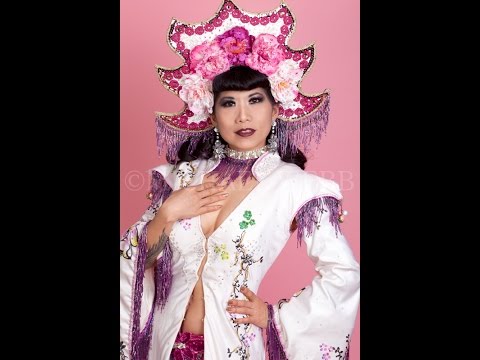 October 18, 2013 | Calamity Chang