Great Gatsby Inspired Hair And Makeup For The Party Season
0
One of the biggest trends this year has been inspired by one of the biggest films – Baz Luhrmann's lavish adaptation of F. Scott Fitzgerald's classic novel about the excess of jazz era America. It had everything – Leo, a thumping Jay Z soundtrack and some of the best hairstyles we've seen all year. Eyes were on Carey Mulligan's Daisy Buchanan, who lit up the screen with her effortless 20s elegance and flapper-style bob.
The high street shops are still filled with Gatsby inspired clothing, from flapper dresses to statement costume jewelry to neat little cloche hats, but how do you complete the look? If you don't want to go for the chop, there's still plenty of searing 20s hairstyles out there to try, and all of them are perfect for making a big party statement. Your Christmas dos might not be as crazy as Gastby's bashes, but you can bring your own spot of glamour to the event with this vintage style. So look the part by following our Great Gatsby hair and makeup guide:
The Daisy Bob Hairstyle
If you have long hair but don't want a trip to the hairdresser, a quick hairstyle is the faux bob! Simply create a side parting and tuck the back of your hair into a neat bun and use your straighteners to curl the front of your hair into a bob shape that curls dramatically inwards into your neck. To do this you simply have to 'flip' your straightener when halfway down the strand of your hair to manipulate it into an inward flick.
The result is a combination of an understated up do combined with a 20s detail that will give you a daring look.
Finger Waves
The defining hairstyle of the 20s takes a little time and effort, but it's worth it for an unforgettable style! There are two methods, one that uses a curling iron and one that doesn't, and both give a slightly different look. A top tip is to use the non-curling (and more time consuming) method just on the front of your hair and curl the rest for a look that adds drama but saves time!
For the non-curling method you will need a set of finger wave clips – thick hair clips that will help you set the wave. Make a deep side parting and divide your hair into sections around 3 inches wide.
If you're using wet hair, make sure to towel dry it beforehand as this style needs the hair to be damp, not soaking, to set properly. If you're styling dry, spray some water into your hair and work it through.
Now spray with salt or setting spray and brush your first section as far forward as possible. Set your first 'wave' by putting a couple of pins in the root of your hair and then brushing your section backwards to create a curl and putting another two pins an inch or two down.
Brush your remaining hair forward once again and pin, then backward etc. until you have a series of waves running down your section. This should take about half an hour to set, blow dry to speed the process up!
The Curling Method
The curling method for finger waves works on both damp and dry hair, but make sure you put in plenty of hairspray beforehand to get a good defining wave!
Instead of wrapping the hair around the curling iron to create a spiral curl, use the barrel of the iron to make a 'crimp' in the hair and make a half turn with your wrist to get the wave. Release after a few seconds and work the curler down the rest of your hair to get a great effect!
The finger waves of the 20s were very regimented, but the 21st century version is softer. Mix your waved front section with looser curled sections for something a bit more modern.
Great Gatsby Inspired Makeup
Flapper fashion was all about drama, so heavy kohl eyeliner, smoky eyes, and matte red lips are the order of the day. 20s girls also used very heavy, pale foundation, but your normal foundation routine with a touch of powder on top will make a good base that won't look too out of time.
Curl your eyelashes and add mascara, concentrating on the centre lashes, to make your eyes pop.
And of course, what is a 20s look without a beauty spot? Simply push your black eyeliner pencil into your skin as a finishing touch that will transport you straight into the roaring 20s! Now where is Leo?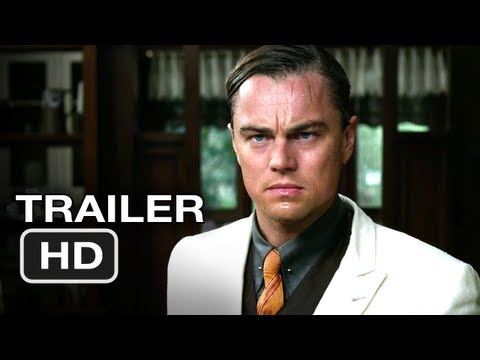 Alex works with http://barriestephenhair.co.uk and is a passionate hair and beauty writer who has seen the Great Gatsby several times since its release earlier this year. Obsessed with the jazz, she loves the costumes, hair and makeup in the movie. In her spare time she loves to read classic novels and gossip magazines.

December 7, 2013 | admin